2021 Public Policy Courses
Our first Public Policy class will be this Saturday at 10am!
Below is the Zoom information and information on our instructors for this year: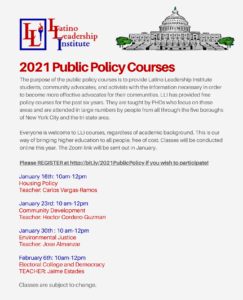 Carlos Vargas-Ramos is a Centro research associate working on the impact of migration on Puerto Rican political behavior, political attitudes and orientations. He received his BA in political science and Economics from Rutgers University and also holds an Main Hispanic Civilization from New York University, and a PhD in Political Science from Columbia University. Prior to joining the Centro's staff, Carlos was a legislative aide at the New York City Council. He has also worked as a research assistant at the Barnard/Columbia Center for Urban Policy and Research as well as an enumerator and manager for the U.S. Bureau of the Census. He is a member of the Caribbean Studies Association and the Puerto Rican Studies Association.
Dr. Héctor R. Cordero-Guzmán received his M.A. and Ph.D. degrees in Sociology from The University of Chicago is a Professor at the Austin W. Marxe School of Public and International Affairs at Baruch College of the City University of New York. He is also a Professor in the Ph.D. Programs in Sociology and in Urban Education at the City University of New York (CUNY) Graduate School and University Center. Prior to joining the Marxe School at CUNY, Dr. Cordero-Guzman was a Program Officer in the Economic Development and the Quality Employment Units of the Asset Building and Community Development Program at The Ford Foundation.
Jose Almanzar is an Associate Attorney at Beveridge & Diamond, P.C. Jose's practice focuses on environmental due diligence counseling for real estate and business transactions, environmental regulatory matters, and environmental litigation. Prior to joining Beveridge & Diamond, P.C., Jose provided counsel to Fortune 100 clients with environmental due diligence and project development matters, and has represented parties in mass and toxic environmental tort cases across the country. He received his Juris Doctor degree, cum laude, from New York Law School, where he focused his studies on environmental and land use law. Jose is the Co-Chair of the Environmental Justice Committee for the New York State Bar Association's Environmental & Energy Law Section, and does pro bono work representing undocumented minors facing deportation in Immigration Court.
Jaime Estades is a founder and the President of the Latino Leadership Institute, Inc. Jaime frequently participates as a speaker and panelist at institutions such as Columbia University, Rutgers University, Brown University, New York University School of Law and City University of New York. He is an adjunct professor of Advocacy and Social Policy at Columbia University and NYU. Jaime is an Executive Producer of the documentary film based on the 2016 presidential election entitled "Let My People Vote". When he was the Executive Director of the Hispanic Education and Legal Fund, Jaime spearheaded the nonpartisan registration of over 100,000 new voters in New York, New Jersey, Pennsylvania, Massachusetts, Connecticut, Ohio, North Carolina and Florida during the 1996 presidential election.
ZOOM MEETING LINK:
https://us02web.zoom.us/j/86564450206?pwd=Z3FvbzB4QnJXM2tEVFd0ZzJHem8rZz09Meeting ID: 865 6445 0206
Passcode: lli2021
We look forward to seeing you there!