COMPENDIUM Magazine
ELECTIONS, VOTING RIGHTS AND SOCIAL POLICY 
Weekly newsletter 4/19/23
George Carlin – Saving the Planet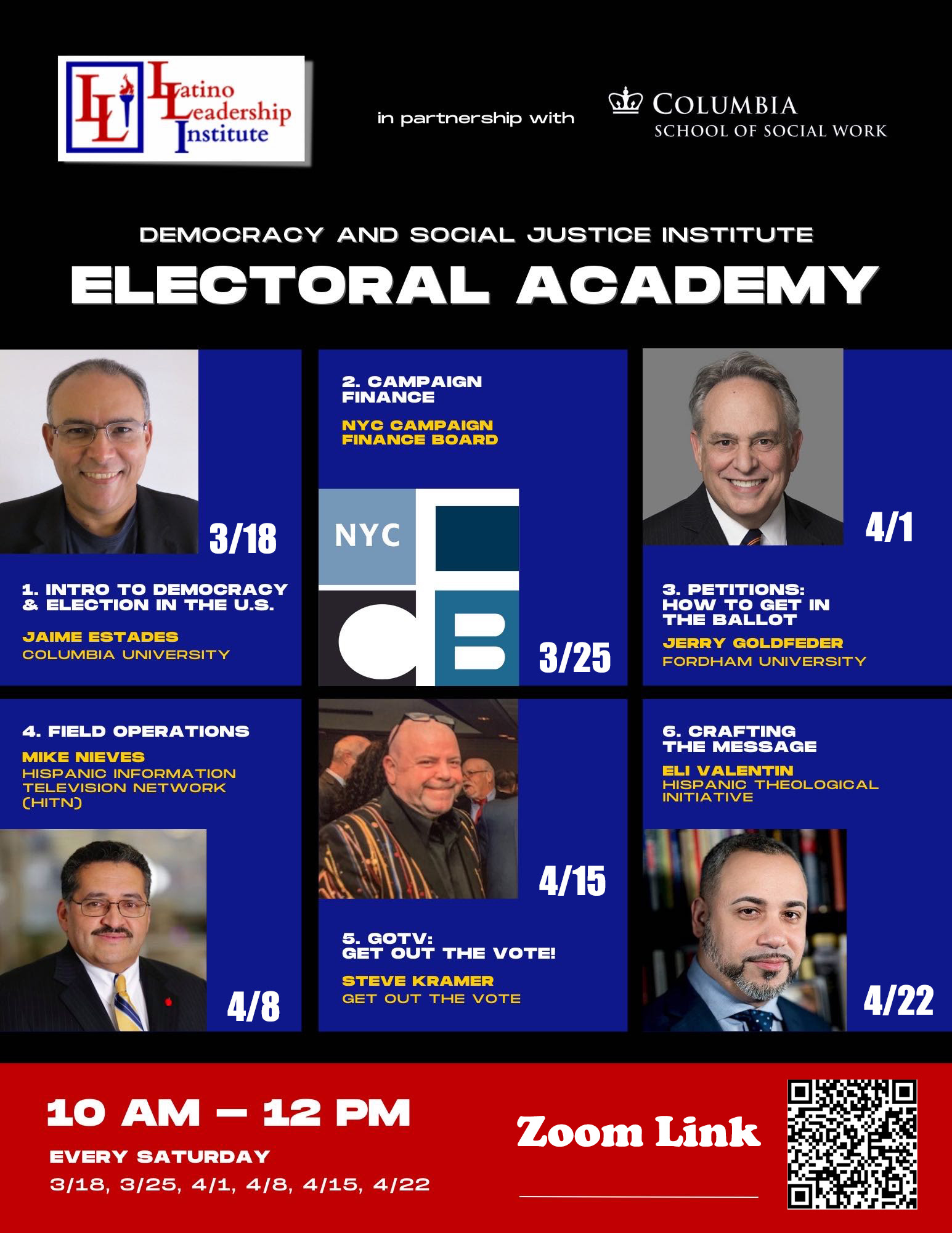 Join us for an exciting online learning
experience this Saturday, April 22, from 10:00 am to 12:00 pm! LLI's highly anticipated Spring Course is finally here, and we can't wait to have you join us.

If you want to join the class, please click the zoom link below or the red button to join.

This course will be conducted via Zoom, making it accessible to anyone, anywhere. All you need to do is click on the link below and enter the meeting details to join us for a fun and engaging session.

Topic: Zoom meeting invitation – LLI Spring Course
When: This is a recurring meeting held at any time

Join a Zoom meeting!
https://columbiauniversity.zoom.us/j/96666724968?pwd=NjNiOFdxbXlKallGNlA4UE1sYXN3dz09

Conference number: 966 6672 4968
Password: 017764

Don't miss out on this unique opportunity to learn from the best. Click the link below and enter the conference number and password to join us for an unforgettable experience. We look forward to meeting you!
Schumer and Warnock Call On DOJ To Investigate Tennessee Expulsions
WASHINGTON, D.C. — On Wednesday, April 12, U.S. Senate Majority Leader Chuck Schumer (D-N.Y.) and Sen. Raphael Warnock (D-Ga.) sent a letter to the U.S. Department of Justice (DOJ) in light of the Tennessee General Assembly's recent expulsions of two Democratic state representatives. The lawmakers called on U.S. Attorney General Merrick Garland to "use all available legal authorities" to decide whether the Tennessee House violated federal civil rights laws or the U.S. Constitution when it expelled two young Black lawmakers from the legislative chamber last Thursday. Sens. Chris Murphy (D-C.T.), Alex Padilla (D-Calif.) and Brian Schatz (D-Hawaii) also signed onto the letter.
Arizona House Expels Republican Over Ethics Violation and Election Misinformation
WASHINGTON, D.C. — On Wednesday, April 12, the Republican-controlled Arizona House voted 46 to 13 to expel state Rep. Liz Harris (R) over ethics violations, including some relating to election misinformation. The move comes one day after the Arizona House Ethics Committee released a report determining that Harris violated state House rules when she invited a constituent to share false claims about elections and other conspiracies at a committee hearing. According to the report, the constituent's presentation was titled "Preliminary Findings of Activities Impacting Arizona's Election Integrity" and "alleged the existence of numerous schemes that encompass money laundering, drug trafficking and sales, public corruption, bribing of public officials, and election fraud." The presentation named various public officials and asserted that they committed improprieties.
How State Supreme Court Justices Are Selected
In the United States, all 50 states as well as Washington, D.C. have at least one court that serves as a state's highest judicial body. Most often referred to as state Supreme Courts (although some states refer to them by a different name), these courts of last resort issue decisions on matters of state law that are final. In certain scenarios, final decisions from state Supreme Courts can be appealed to the U.S. Supreme Court, which has the authority to review final decisions from state Supreme Courts, but only when they deal with the U.S. Constitution or federal law.
Surprise lesson from Wisconsin: Abortion may not be panacea for Dems
Democrats across the country are once again bullish that abortion politics will propel them to electoral nirvana following the party's blowout victory in the Wisconsin's Supreme Court election.
But the operatives behind that successful campaign are warning that the calculus isn't quite so simple.
Four top aides to Justice-elect Janet Protasiewicz's campaign — campaign manager Alejandro Verdin, general consultant Patrick Guarasci, media consultant Ben Nuckels and top spokesperson Sam Roecker — said that running on abortion doesn't work without tying it to a larger message. They argued that the candidates' own values matter when making abortion an issue. So too do the legislation or laws at stake.
DeSantis wants a 6-week abortion ban. These Republicans say no.
TALLAHASSEE, Fla. — Florida's days as a swing state seem over, but the state's GOP isn't monolithic: A handful of Republicans are defying Gov. Ron DeSantis and opposing a six-week abortion ban.
At least two House Republicans are expected to vote Thursday against a bill outlawing most abortions after six weeks of pregnancy. They're following the lead of two GOP senators who also opposed the abortion bill last week when the upper chamber voted on it.
Appeals court keeps abortion pill on the market but sharply limits access
A federal appeals court ruled late Wednesday that an abortion pill can remain on the market but only under strict conditions that prohibit its use beyond seven weeks of pregnancy and bar its distribution by mail.
In a 42-page decision, a three-judge panel of the 5th Circuit Court of Appeals agreed to temporarily block the central aspect of a Texas-based federal judge's ruling that suspended the FDA's 2000 approval of the drug, mifepristone. But by a 2-1 vote, the panel permitted other aspects of that ruling to take effect that would block a seven-year effort by the FDA to widen access to the drug.
Elon Musk Is Waging War on Freedom of Speech on Twitter
In the months surrounding Elon Musk's $44 billion purchase of Twitter, a consensus seemed to hold among supporters and critics alike that he embraced a kind of free speech absolutism. To some, this was a virtue; to others, a concern. But most disagreement had to do with whether or not you were optimistic about what a less moderated and more permissive Twitter would bring.
Thus, in the weeks following Musk's initial purchase of the platform, conservatives and self-identified free speech warriors celebrated the restoration of banned and suspended accounts and the rolling back of existing moderation policies. Critics, meanwhile, warned that Twitter's new ethos of free speech absolutism was making the site a haven for hate speech and reactionary extremism.
Clarence Thomas Is the Most Corrupt of an Extremely Corrupt Supreme Court
A bombshell new report reveals just how extensively Supreme Court justice Clarence Thomas has allowed billionaire interests to buy him favors. But he's far from the only one on the powerful court that's happy to be showered in favors from the ultrarich.
In a week that saw the unprecedented indictment of a former president and the surreal image of his appearance in a courtroom, the chaotic fun house of American politics somehow found room to fit another bombshell. Last Wednesday, ProPublica reported that Supreme Court justice Clarence Thomas — the most right-wing justice on the most right-wing court in generations — has for decades been secretly taking luxury trips and other lavish gifts paid for by billionaire Republican donor Harlan Crow, all without disclosure, unambiguously breaking the law in the process.
Clarence Thomas Has Long Fought to Kill Laws Requiring Transparency in Political Spending
While receiving lavish gifts from billionaire Harlan Crow and then failing to disclose them, Clarence Thomas pushed to invalidate all disclosure laws, insisting that donors have a right to anonymously influence politics with unlimited amounts of cash.
Articles excerpted from Democracy Docket Magazine, Politico Magazine and Portside Magazine